Merging Anubis Networked Audio Interface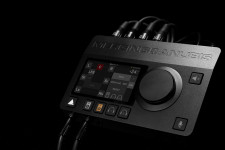 The Merging Anubis Networked Audio Interface is a single product with multiple workflows. A Monitor controller that also controls your network. A Music recording hub that allows you to network a whole band or orchestra. A low latency mixer and processor with extraordinary audio quality. More features than you can believe and made in Switzerland. Would you expect anything less from Merging?
From the initial recording through to the final master, there are specific "missions" that require precision and control. If your mission of the day is to create a great mix, you need to be in complete control of your monitoring: reference monitors, nearfields, headphones, sources, surround mix, downmix, etc. Anubis gives you that "Mission Control" in a single, compact device that has unrivalled capabilities defined by the software application. But this is only one mission, MERGING+ANUBIS allows the user to choose the Mission Controller app that fits the task. Today, Anubis offers a first mission – ANUBIS+MONITOR.
Anubis not only offers exceptional in-the-box features, it also allows for expanding its capabilities to any other RAVENNA/AES67 devices on the network. From stereo to 22.2 monitoring, from a four-piece rock band to a full symphony orchestra, Anubis puts you in control of any situation. Whether you are one meter from your equipment or kilometers away, take control directly from its superb touch screen, tablet or computer through the Anubis built-in web server.
This ultra-mobile and stylish unibody case offers astonishing A/D performance with a dynamic range of 139dB with equally impressive mic pres. Our pristine D/A technology ensures that you hear what your project deserves. Anubis come in two variants: Anubis Pro gives you exceptional performance up to 192kHz. If your mission is working in true high-resolution, Anubis Premium offers up to 384kHz and DXD plus DSD flavors up to 256. What else would you expect from Merging!
Merging has a reputation for getting it right when it comes to audio quality and we have years of experience. It would be surprising if Anubis was any less than the best we can achieve. Great sound is only part of the story, just look at the performance measurements.
Product Specs