Planar CarbonLight CLI Flex Series Curved LED Video Wall
Planar® CarbonLight™ CLI Flex™ is a line of pliable LED video wall displays that combine to create immersive and eye-catching smooth, concave or convex curved video walls. The LED modules are literally bendable, ideal for video wall applications requiring smooth curves, waves or column wraps.
Bend, but Don't Break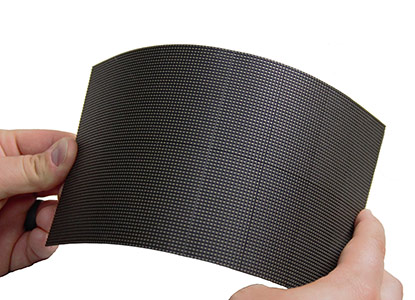 Planar CarbonLight CLI Flex displays are designed for indoor, fixed installations. The Flex LED modules can bend into concave or convex curves as tight as 25" or 637mm. These smooth curves do not cause color shift, offering a more visually-appealing alternative to faceting flat LED cabinets into segmented curves. The LED modules can also be combined with standard Planar® CarbonLight™ CLI Series cabinets to form unique video walls with both flat and curved surfaces.
Tailored to Your Needs
Planar CarbonLight CLI Flex is a front-service solution that attaches magnetically to a customized sheet metal mounting frame, facilitating wall-mounting, free-standing or hanging installations. Planar CarbonLight CLI Flex is a custom solution offered in 1.5, 1.9, 2.6 and 3.9 millimeter pixel pitches by the Planar® Creative LED Solutions and Services team.
Product Specs
Available in 1.5, 1.9, 2.6, 3.9mm pixel pitches
Convex or concave video walls with smooth curves
Suitable for hanging, wall mounting or free-standing installations
Front installation and service
Supports a curve radius as small as 25" (637mm)
Compatible with rigid Planar CarbonLight CLI Series
Learn more