Product Specs
TitanTV created and now offers the ultimate program schedule management tool, providing the flexibility and control needed to maintain your station's program schedules.
STREAMLINE YOUR OPERATIONS
With its integrated suite of powerful tools, MediaStar Scheduler streamlines your station's efficiency and eliminate redundant, time-consuming data-entry. Manage program schedules, program listing data and generate reports from a single web-based platform.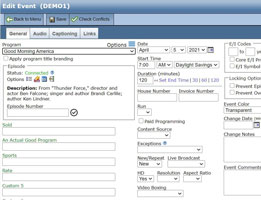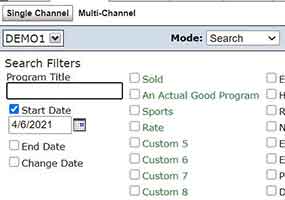 NEVER FALL BEHIND ON TECHNOLOGY
Since its initial release, our developers continue to strive to perfect MediaStar Scheduler, adding new features, enhancements and intuitive user elements. These frequent updates make it easier for both individual stations and station groups to stay on top of new broadcasting regulations and trends.
MEDIASTAR SCHEDULER HIGH-LEVEL FEATURES
Comprehensive management of Program Schedules including digital sub-channels, live streaming, & OTT
Access to MediaStar's Global Program Library
Program Scheduling Defaults to save and load predetermined program options
Dynamic Distribution of programming across channels
Bulk update, restore, and import options
Multiple access rights: Full and View-Only
Event Color Management
Real-time, multi-channel schedule Publish to PSIP, TitanTV Guide & Data Services, TitanTV.com
Quickly locate past and future programming with the Search feature
Manage Recurring Events
ACHIEVING RESULTS – MEDIASTAR SCHEDULER FEEDBACK
"I've been using MediaStar for more than a decade, and I can't image going back to the old way of producing program schedules using worksheet software. WIth the included database resources and ease of use, MediaStar is a must have for stations losing or reducing personnel due to budget cuts."
— Isaac Turner, KMSS, Program Director
Learn more