DACS Clarity MicAmp 2 Solid-State Microphone Pre-Amp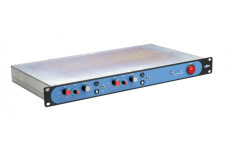 The DACS Clarity MicAmp 2 is almost certainly the finest two channel, ultra low noise, discrete component based microphone amplifier available in the industry today. If a microphone pre-amp adds anything more than clean gain to the audio signal on its way from the microphone to the recording medium, whatever that extra is, it then becomes an integral part of the recorded signal. This addition is extremely difficult to remove at a later stage. On the other hand, if anything is subtracted from the audio signal along the same path, it is irretrievably lost. No amount of post-production knob-twiddling can re-create the detail lost, or restore the dynamics flattened, by an inadequate mic pre.
So the ideal microphone amplifier should be designed to make sure that neither of these types of signal degradation occurs. It should be:
as low noise as possible, at whatever level of gain
grain-free and allow the transmission of a literally high-fidelity signal, which is faithful to both the frequency and dynamic ranges of the source.
This ideal is very hard to achieve – but DACS talked to recording engineers; they said it's what they want, so rather than try to make a feature out of a failing ("it's not muddy, it's warm" etc) the lab boffins got to work and developed a unique amplifier topology to provide it.
In addition to those necessary sonic features, it is also highly desirable for the mic preamp to have switched gain controls for easy recall of settings, easy to read metering so that level decisions can be made instantly, and both a phantom powered input for 48V mics and a non-powered input for ribbon mics, valve mics with their own power supply, and dynamics.
DACS Clarity MicAmp 2:
2 channel discrete-component-based microphone amplifier
Ultra-low noise, ultra-low distortion circuitry
Unmatched sonic realism: entirely true to the original source
Switched gain settings from +20dB to +62dB (plenty to use with low-output ribbon mics) in 6dB steps, with a 0dB to +10dB trim control
Both a Phantom Powered input and an input that bypasses the input capacitors and is coupled directly to the gain stage, for ribbon, valve and dynamic mics
Flat frequency response from below 20Hz to above 48kHz
Three-segment LED display with PPM ballistics and a bright overload LED for clear metering
The Clarity MicAmp 2 produces an extraordinarily clear, detailed, and dynamic sound for recording everything from naturalistic voice and acoustic instruments to high-energy percussion overheads (when utilising the robust input stage and optional in line pad).
Product Specs