Get ready to level-up your skills this April in Las Vegas! Future Media Conferences and NAB Show are teaming up to bring in-person training sessions to NAB Show in Las Vegas this April 21–27. With more than 90 sessions to choose from across six separate tracks, the program offers a wide range of interactive learning opportunities including hands-on field workshops, Adobe certification courses and networking events.
Post|Production World (P|PW) is the world's leading training conference for production and post-production professionals, content creators, designers, TV, film & video editors, producers, directors, motion graphics artists & online video specialists.
After a three-year hiatus on in-person programming, FMC and NAB Show are excited to bring the largest training conference for production and post-production professionals to NAB Show. The program features new training sessions covering a range of topics including technical training sessions on industry-standard software, motion design, business strategy, social media management, and discussions on emerging technology such as 8K video and immersive media.
"Much has changed in the past couple of years in the way content is being created and distributed," says Ben Kozuch of Future Media Conferences. "our goal is to reconnect the industry and provide cutting-edge training and best practices to help professionals continue to succeed and thrive."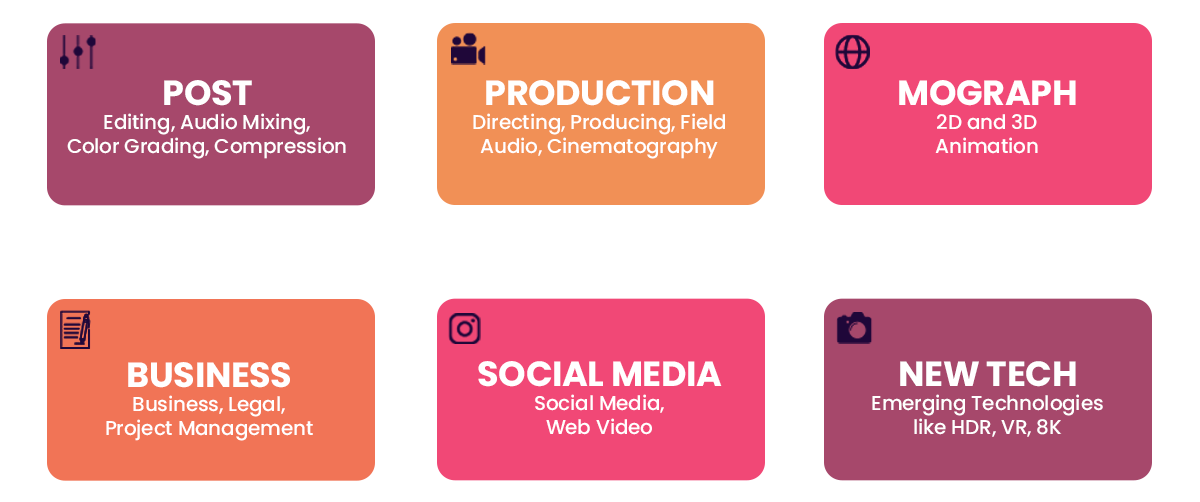 In an effort to support the media and entertainment industry, Post|Production World also includes Adobe Certification Workshops to prep creatives interested in earning the latest Adobe Certification in After Effects and Premiere Pro. These six-hour workshops are led by Adobe Certified Instructors, who can provide an in-depth overview of exam questions and the latest features in each application, as well as industry trends.
---
NAB Show 2022 offers a reimagined experience that aligns with the content life cycle: Create, Connect and Capitalize, along with an Intelligent Content showcase illustrating the increasingly important role of data, AI and automation in current and future media workflows. Learn everything NAB Show 2022 has to offer, and how you can maximize your participation in one of the year's biggest events!
---
Additionally, recognizing the importance of hands-on learning, Future Media Conferences offers a variety of hands-on field workshops just off the Las Vegas strip. These workshops offer a unique, interactive learning experience for those interested in producing video content. Workshops range from one-day to two-day sessions on studio lighting, drone videography, remote production, and live streaming as well as immersive media content creation.
"Year after year, FMC brings world-class training programs and field workshops to NAB Show's creative community," said NAB executive vice president and managing director, global connections and events, Chris Brown. "P|PW offers the opportunity to learn from the best in the business, all while drawing energy and ideas from peers representing every side of the business. There is simply nothing like it."

Post|Production World instructors and program details will be announced in the coming weeks. Register today to secure your opportunity for hands-on training from industry experts at ppw-conference.com.
Are you interested in contributing ideas, suggestions or opinions? We'd love to hear from you. Email us here.